Silverglades Retirement Home – Melia First Citizen
Dining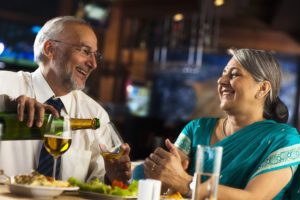 Common Dining Services – Residents shall have an option to select dining package compromising all three or any one meal. In order to build community participation and interaction one (1) meal a day is recommended. All menus shall comprise of nutritionally balanced meals with select choices to choose from a limited Ala carte menu. Efforts shall be made to offer special meals on festivals and holidays.
Optional / Additional meals available at suitable notice and at extra cost.
Tray service if recommended by the Community Physician on nominal additional delivery charges.
Assisted Living Dining Services – Nutritionally well balanced meals would be served from the main kitchen based on the dietician's inputs.
Gurgaon retirement home dining services,retirement home in gurgaon,luxury senior living in india, Senior Citizen in ncr ,NCR Retirement Communities, elderly living in NCR,Elder Care In Gurgaon,Search Seniors Retirement Homes in NCR, NCR senior living,Best Senior Citizen Care Home Delhi,Age ventures india retirement homes,Retirement homes in Delhi NCR,paid senior citizen living homes,Senior Living in NCR delhi,Luxury Senior Citizen Retirement Home NCR,Senior Citizen Retirement Home in delhi,Seniors Retirement Homes in delhi ncr,Senior Apartments Community in ncr,Senior Apartments Community at delhi,senior citizen housing projects in delhi ncr,Senior Citizen home in India,Retirement home in Delhi NCR,Retirement home near Noida,Retirement home near dehradun,Luxury Retirement Homes India,Premium living for senior citizens India,Elderly Care home in Delhi Gurgaon NCR,Senior Care home ,senior living companies,retirement homes independent living,assisted living communities,Flat for senior citizens in India,Flat for senior citizens in ncr,Senior Citizen housing project in Gurgaon