PRARAMBH – Ek Nayi Zindiga Ka – Retirement Home in Ahmedabad
Well Being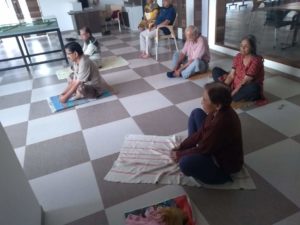 Physiotherapy and Fitness Services – All the communities supported by AVI shall have a well equipped physiotherapy and a fitness center. Qualified physiotherapist along with assistants' would be available to assist the occupant / residents with their physiotherapy and fitness needs part of the day. This facility is part of Phase 2. It is will be located in the Shopping complex adjoining Prarambh.
Yoga Classes – Regular yoga classes are held on alternate days.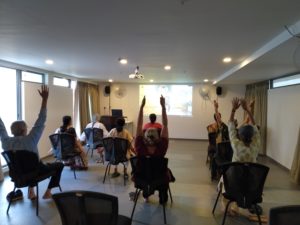 Personal Care Service – Provision is there for providing special assistance like:
Assistance with personal Hygiene – bathing, showering, shaving, tooth-brushing, toileting, dressing etc.
Medication Control
Continence Management
Help with eating and drinking
Mobility assistance including using specialist equipment
These services will be provided by a care giver under the guidance of a nurse. These will be charged extra on per hour basis. These services would normally be given on the recommendation of the community physician.