PRARAMBH – Ek Nayi Zindiga Ka – Retirement Home in Ahmedabad
Dining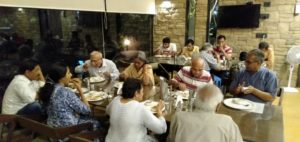 Common Dining Services Residents have an option to select dining package compromising all three or any one meal, in the communal dining area. All menus l comprise of nutritionally balanced meals. Efforts is made to offer special meals on festivals and holidays.
Optional / Additional mealsis available at suitable notice and at extra cost.
Tray service if recommended by the Community Physician on nominal additional delivery charges is available.
Assisted Living Dining Services – Nutritionally well balanced meals would be served from the main kitchen based on the dietician's inputs.
A separate fine dining hall will be available in the adjoining Club . This will offer an a la carte menu for those looking for a change or want to celebrate an occasion.